Best No-Code Automation Tools for Startups
We compiled the list of the top no-code automation tools for startups, which can optimize your internal process with minimum resources involved.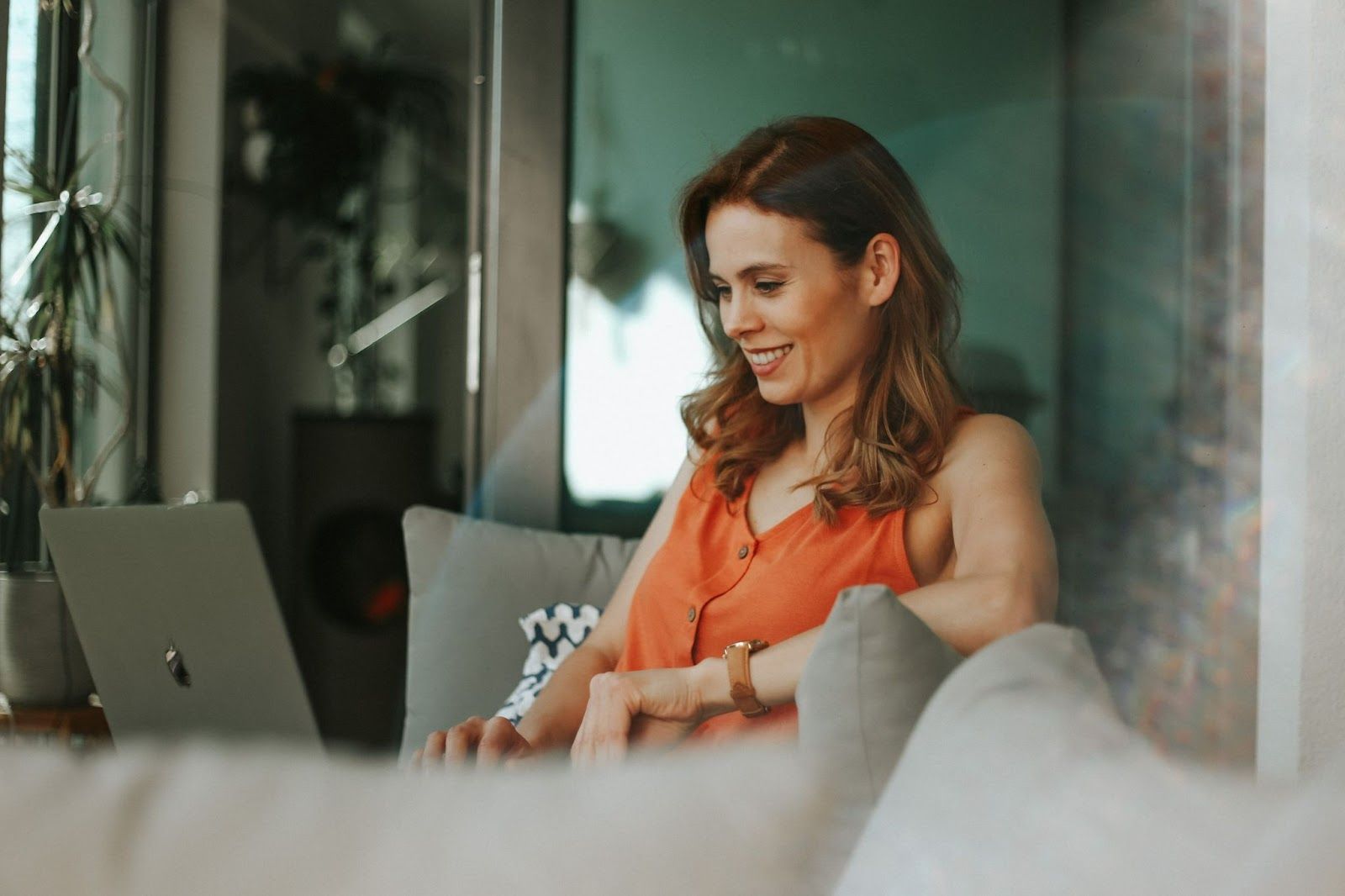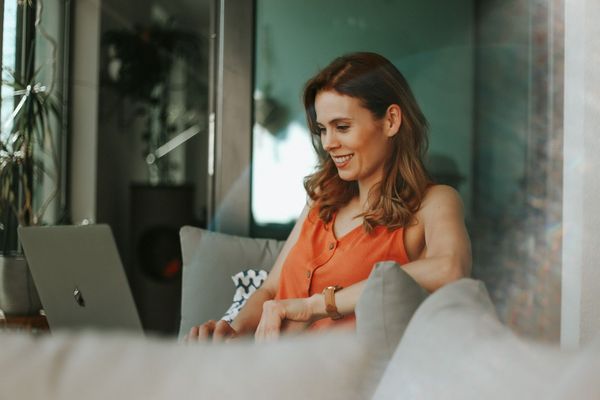 Launching a startup is always an exciting and resource-intensive goal, even with the best no-code automation tools and services involved. Saying "resources" means not only the efforts of people involved and time spent but also money, which is especially valuable for a startup at its early stages. This is what we have on the one hand.
But on the other hand, nowadays it's almost impossible to run a business effectively without no automation tools involved. According to Businesswire experts, the global marketing automation software market is predicted to grow up at 12.8 CAGR from USD 5.2 billion in 2022 to USD 9.5 billion by 2027.
Doing everything manually, you risk spending numerous sleepless nights performing routine tasks instead of analyzing the market and creating further strategies for growth.
So how to strike the right balance? Don't worry: there are ways to optimize your company's assets without huge money investments and with no special programming knowledge involved.
What Are No-Code Automation Tools
But first comes first: let's define what no-code automation tools are: these are programs, services, or apps, which enable people without coding skills to create software apps, platforms, and solutions using graphical user interfaces instead of writing code.
Top benefits of no-code automation solutions:
Less time for building software solutions;
No engineers are needed for building products;
Better control over project results for non-technical specialists;
Cost-effective and affordable for small businesses and startups.
Before no-code automation, any development process relied deeply on engineers, who needed to possess deep professional knowledge and profound coding skills. No-code solutions allow the removal of these barriers and enable everyone, even non-technical specialists, with equal opportunities in creating their own products. This has opened the doors for many non-technical people, enabling them to build as much as beautiful and functional apps without writing code.
Modern No-Code Platforms for Project Management
Project management is one of the most time-consuming and tedious parts of any organization's workflow, as it often demands constant checking of multiple data sources, messengers, and timelines. No-code project management solutions can ease these operations turning all of them into one flawless procedure:
Airtable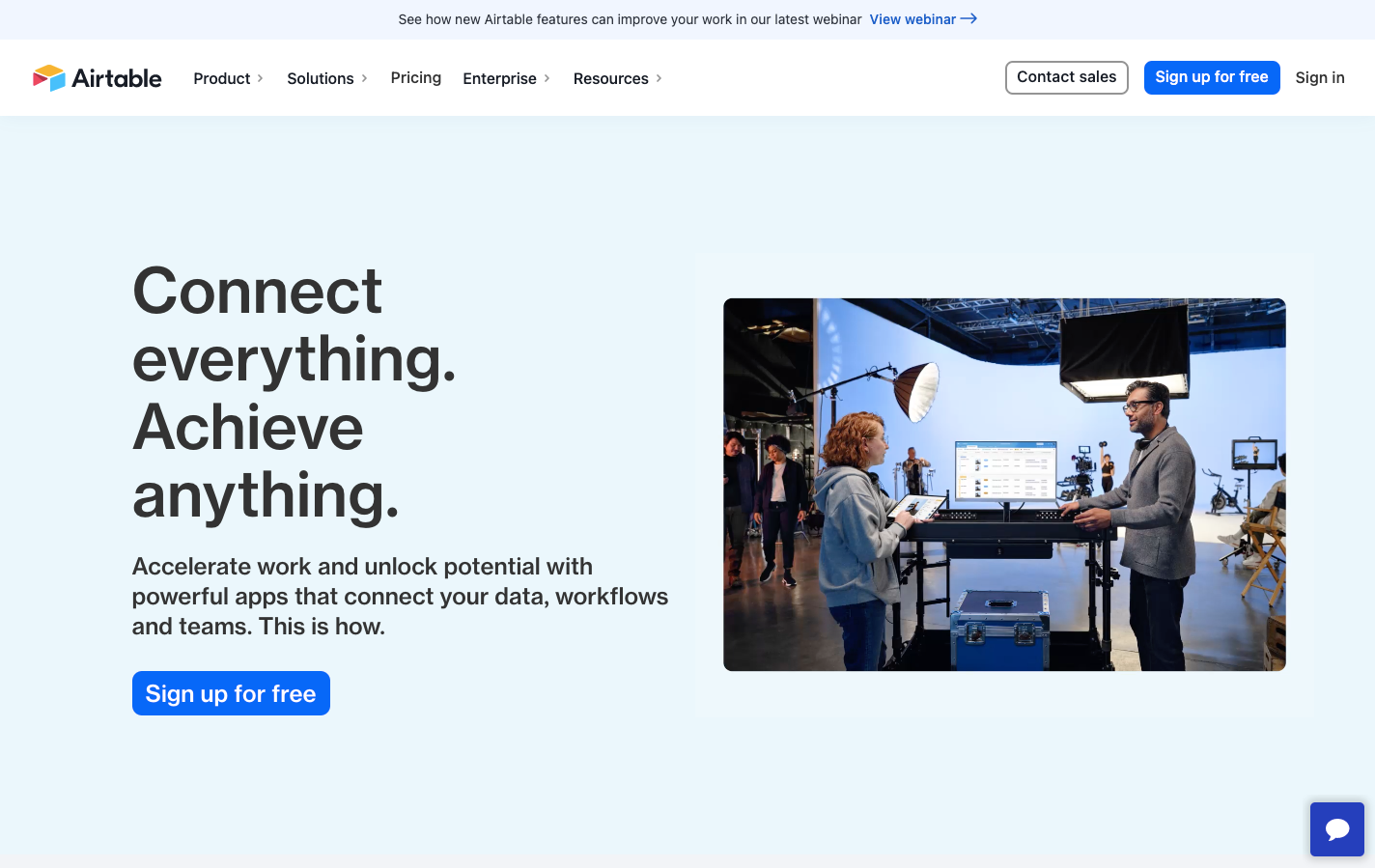 Airtable is a low-code automation platform for workflow management with a user-friendly interface that allows you to easily connect data, projects, and teams in a single source of truth. Here no coding skills are required for creating visual interfaces, as everything is done via drag-and-drop operation right on the platform.
Airtable no-code business process automation tool supports a lot of popular apps and has a robust API, which makes it very flexible and cost-effective. It follows the latest cybersecurity certifications to protect your data against fraud.
Pricing: it has a free plan, then goes the Plus plan for 10$ per month, the Pro plan for 20$ per month, and the Enterprise plan with a custom pricing.
n8n.io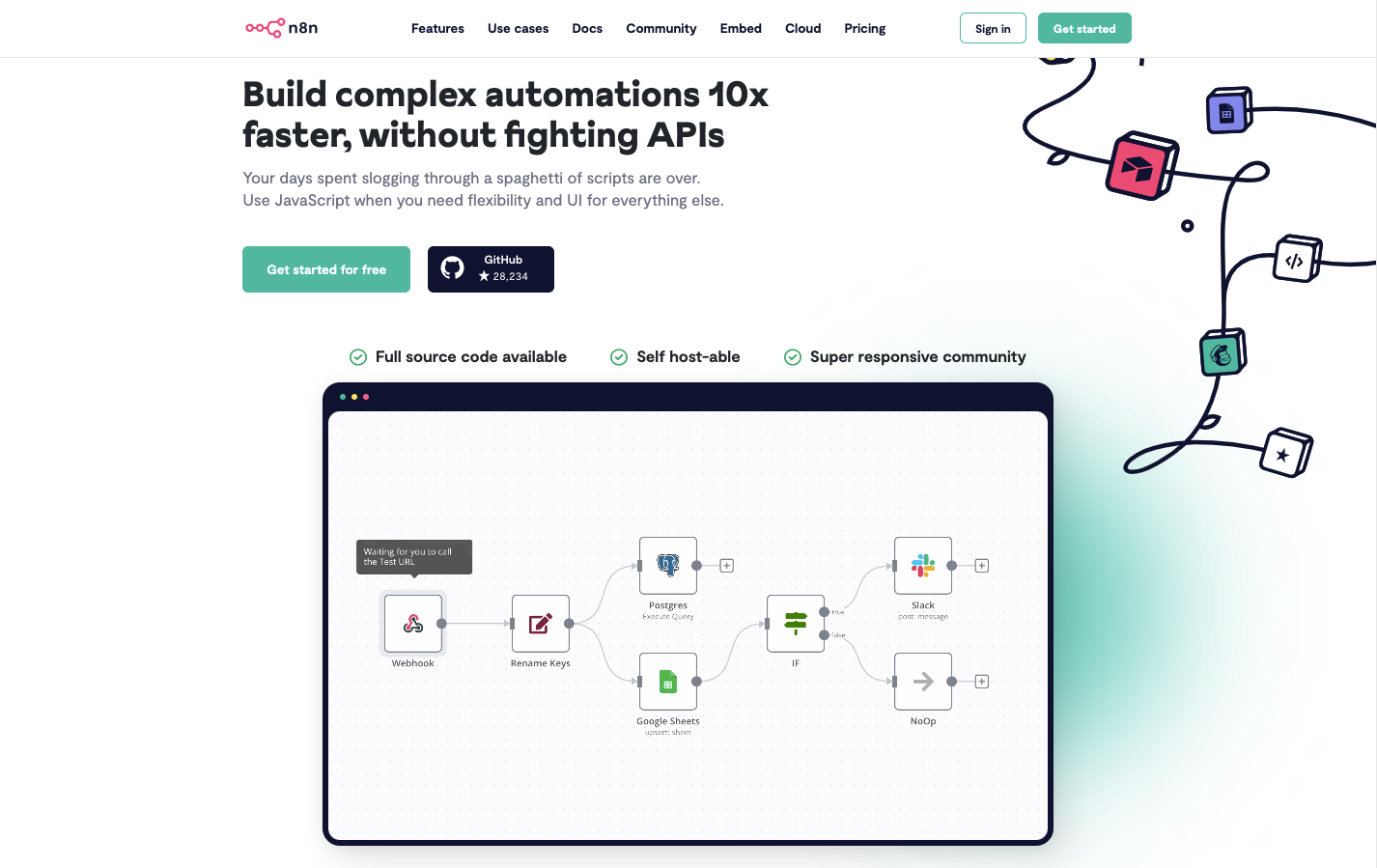 n8n is a no-code workflow automation tool that lets users connect various programs, data sources, and apps with each other. It has a user-friendly interface and can be run both with and without coding – as you prefer.
n8n is an ideal no-code data automation tool for various specialists: DevOps, project managers, sales representatives, and others, ad it has a robust and universal functionality and customization list. Plus, users can represent complex logic in their workflows through merging, looping, and error handling.
Pricing: n8n has several free plans for desktop use, as well as a free cloud package trial. Then go payable cloud packages: Start package for €20 per month, Pro is €50 per month, and Power package is €120 per month.
Parabola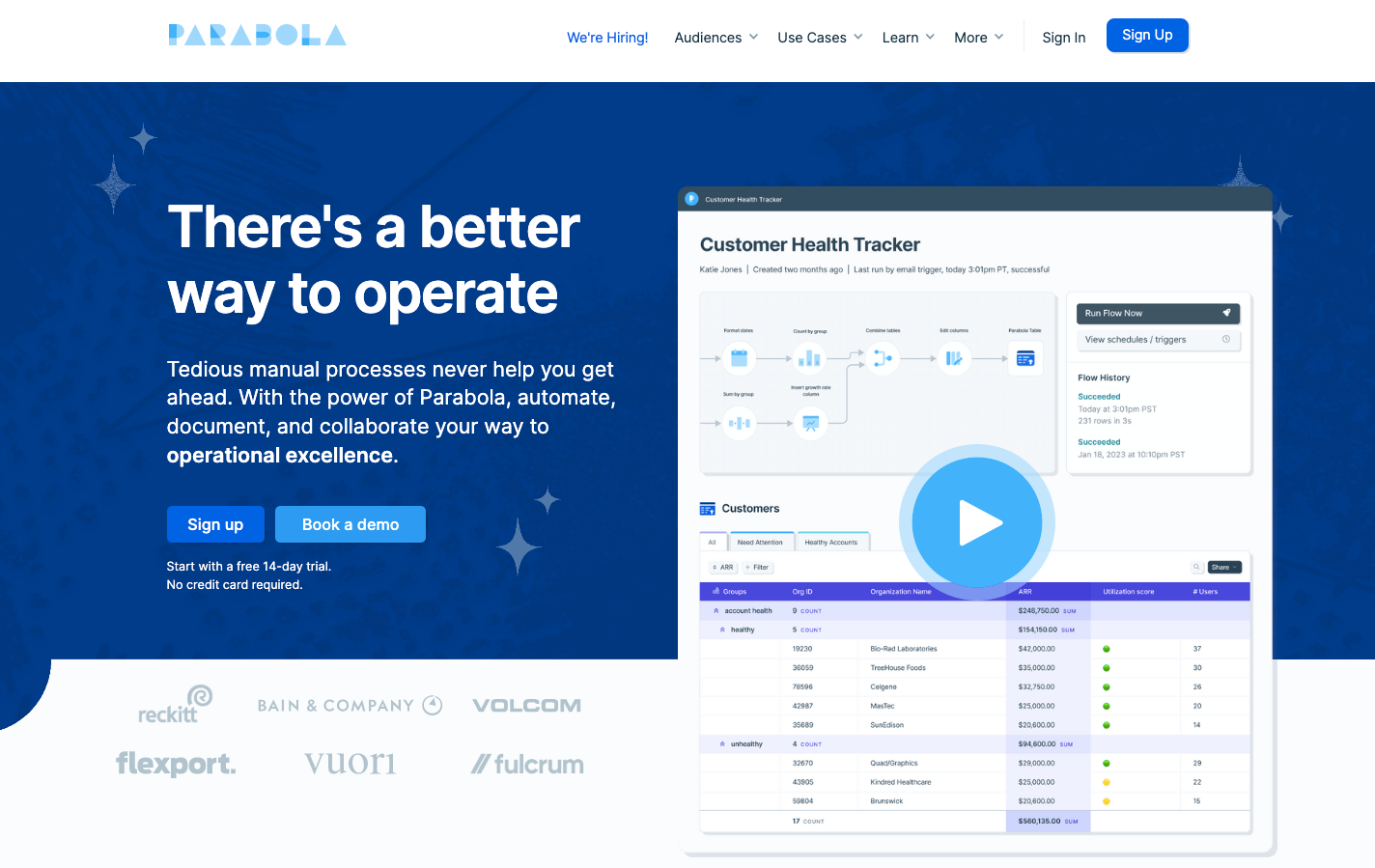 Parabola is a no-code process automation app that helps project users create and execute any workflows they need through a user-friendly UI. It's perfectly suited for non-technical specialists and effectively automate various data operations like documents, spreadsheets, databases, and even API management. It works well with e-commerce platforms like Salesforce, Mailchimp, Shopify, while increased flexibility and security allow users to manage all of the document's work from a single platform.
Pricing: has a free 14-day trial plan, then goes a free Basic plan, Plus plan per $80 per month, and Advanced plan with custom pricing.
Top No-Code Platforms for Sales & Marketing
By setting up automation for tedious manual tasks, your team can focus on revenue-driving activities. They can spend more time serving customers and less time hunting down information, following up with coworkers, or other common time-wasters. Here are some examples of workflow automation that can benefit sales, marketing, or customer support teams:
Zapier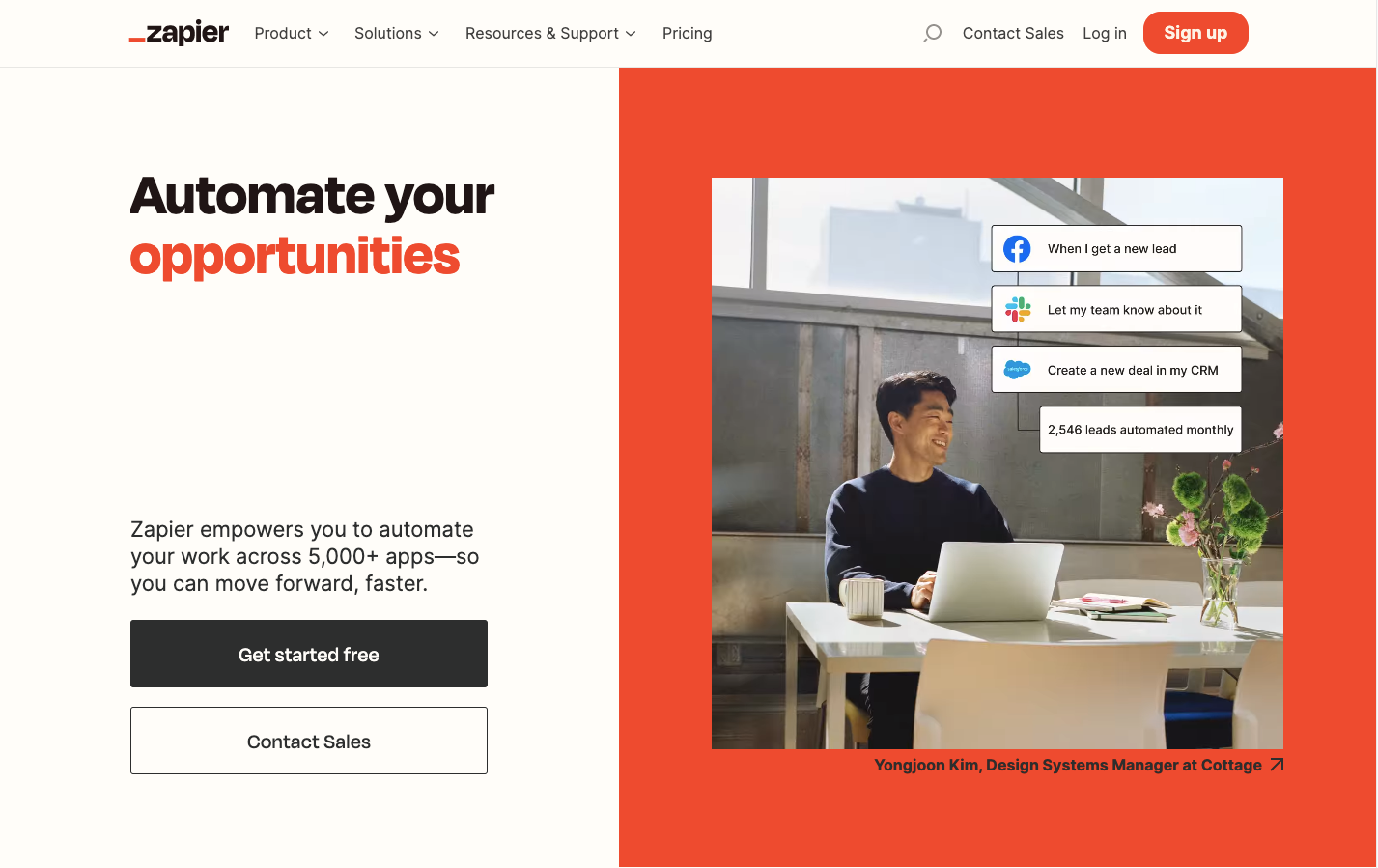 Zapier is a no-code enterprise process automation tool that automates time-consuming and repetitive tasks and can be suitable for specialists in any position and with different technical skills. It integrates with your web tools and applications like Gmail, Slack, Shopify, etc. to collect all the notifications and new events at one dashboard. The editor is 100% do-it-yourself friendly and allows you to build your own custom chain of triggers.
Pricing: has a free basic plan, then goes Starter plan per €18,83 per month, Professional plan per €46,15 per month, Team plan per €375,75 per month, and Company plan per €752,45 per month.
Zendesk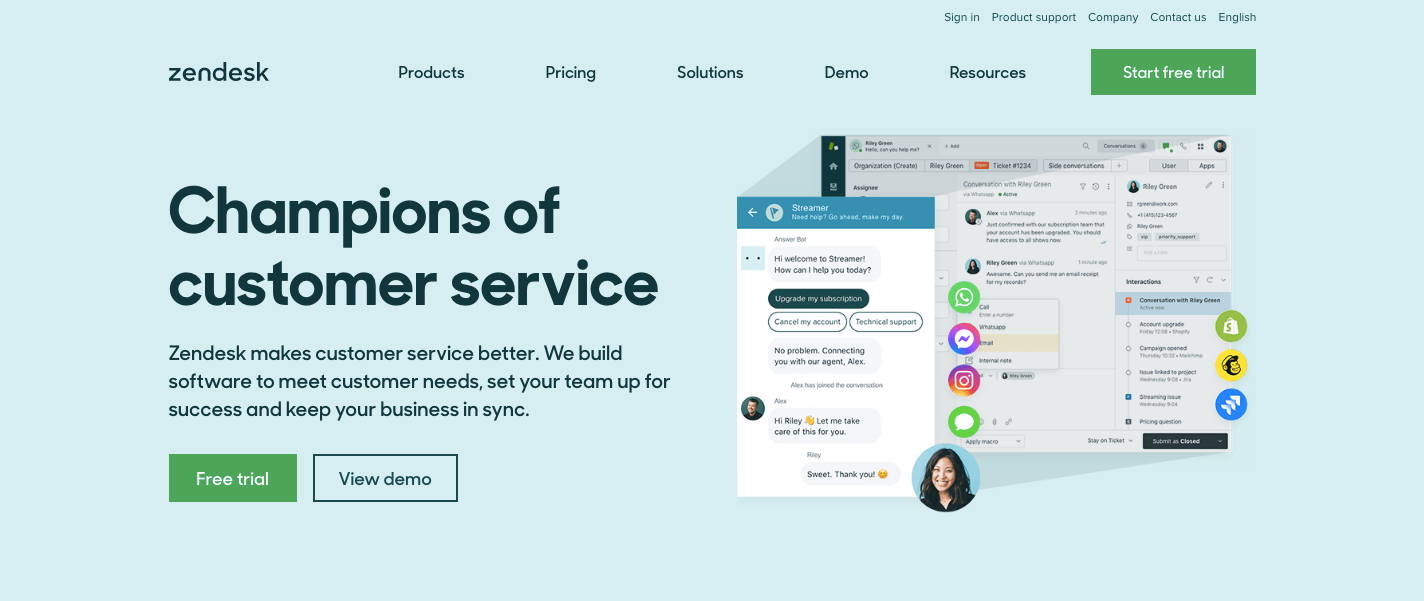 Zendesk is a customer service and sales CRM that helps to improve customer relationships through connecting various apps, systems, and tools you use and optimizing their work. This no-code business automation platform also has robust customization capabilities: you can browse apps, themes, and partners to make the platform your own.
Pricing: has several pricing plans, Suite Team plan per $49 per month, Suite Growth plan per 79 per month, Suite Professional plan per $99 per month), Suite Enterprise plan per $150 per month), and various custom plans starting from $215 per month.
Mailchimp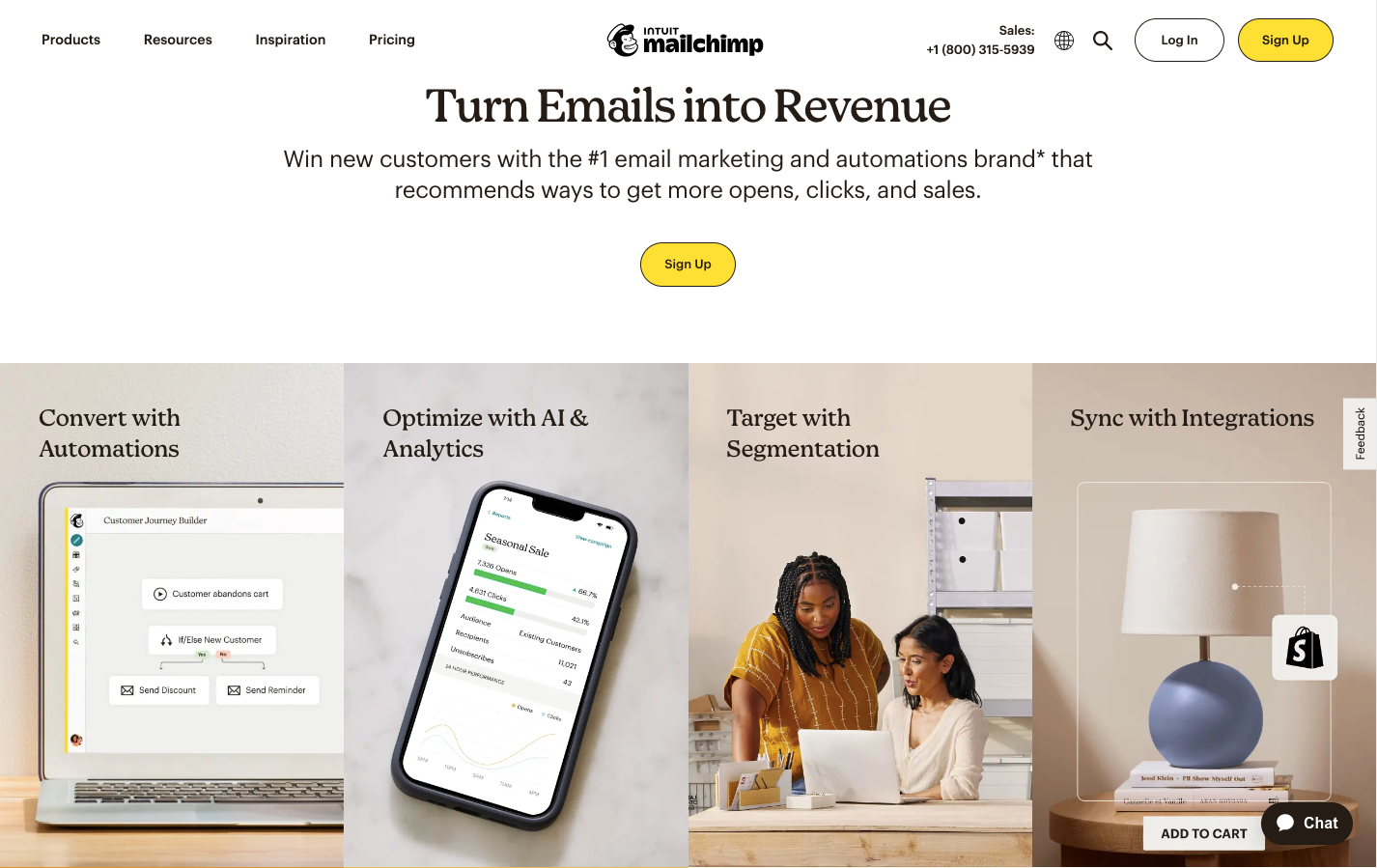 Mailchimp is a handy no-code platform that has all you need to collect, sort out, and structure customer data, make the needed analysis, and effectively communicate with your target audience.
Using Mailchimp, you can also conduct marketing researches, categorize your target audiences, as well as plan and launch various social media campaigns. The platform has a bunch of third-party integrations like Square and LiveChat, so you can have all the needed tools at hand.
Pricing: Mailchimp provides users with a free subscription plan, then goes Essentials plan per $13 per month, Standard plan per $20 per month, and Premium plan per $350 per month.
Top No-Code Platforms for Design & Development
Designing and creating websites is becoming more and more easier every year, as lots of no-code web development tools evolving which can help with this tasks. Below we have collected some of the most popular no-code builders:
Webflow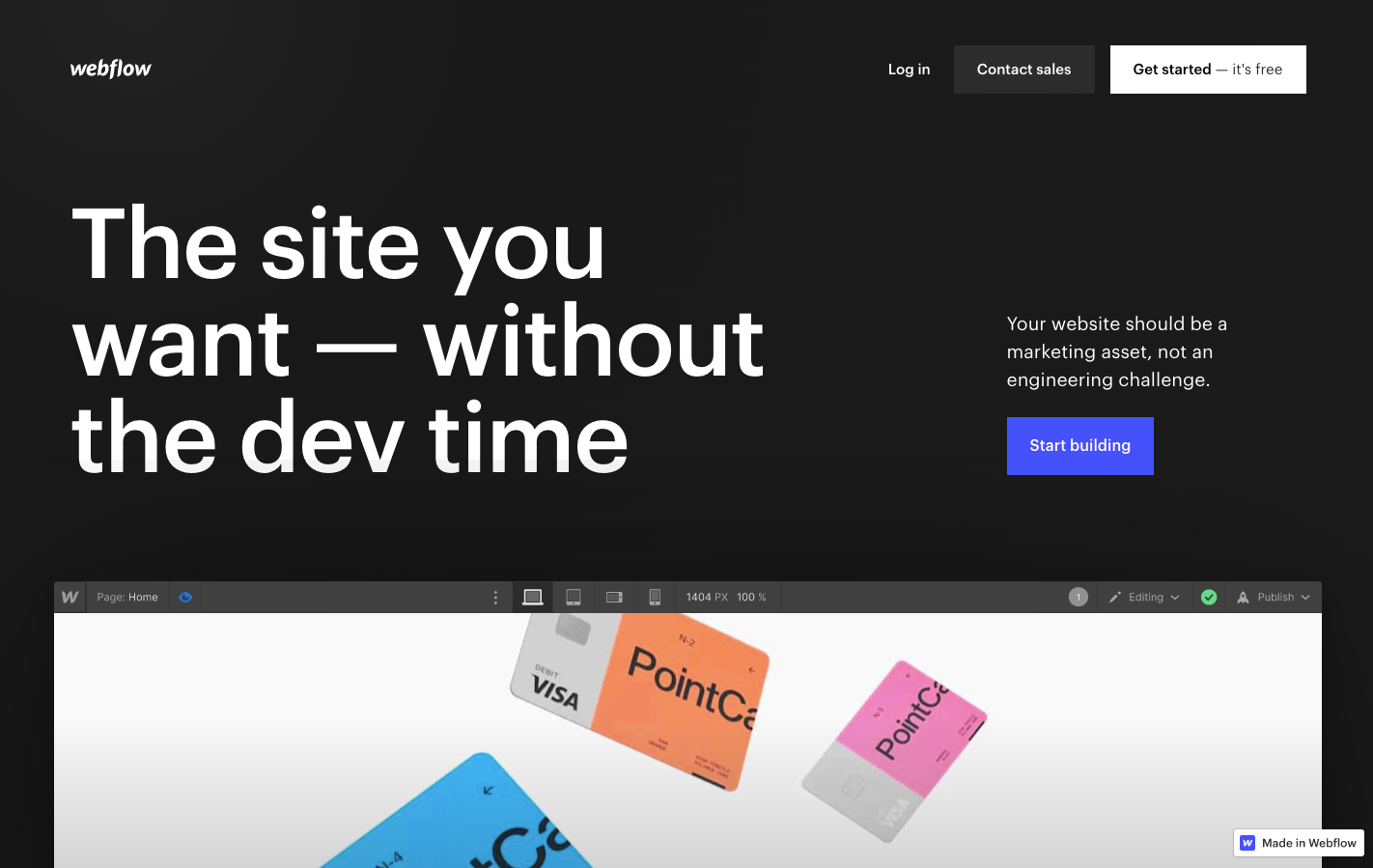 Webflow is a no-code platform that allows you to create, design, and launch websites and custom databases with no coding needed. With Webflow, users can easily integrate animations and online stores while building in HTML5, CSS, and JavaScript. The tool is totally free until the launching stage – then you'll need to choose your pricing plan, as the Webflow hosts its products by itself and it will scale your website as your business grows.
Pricing: it's totally free until you're ready to launch your app, then – contact sales.
Bravo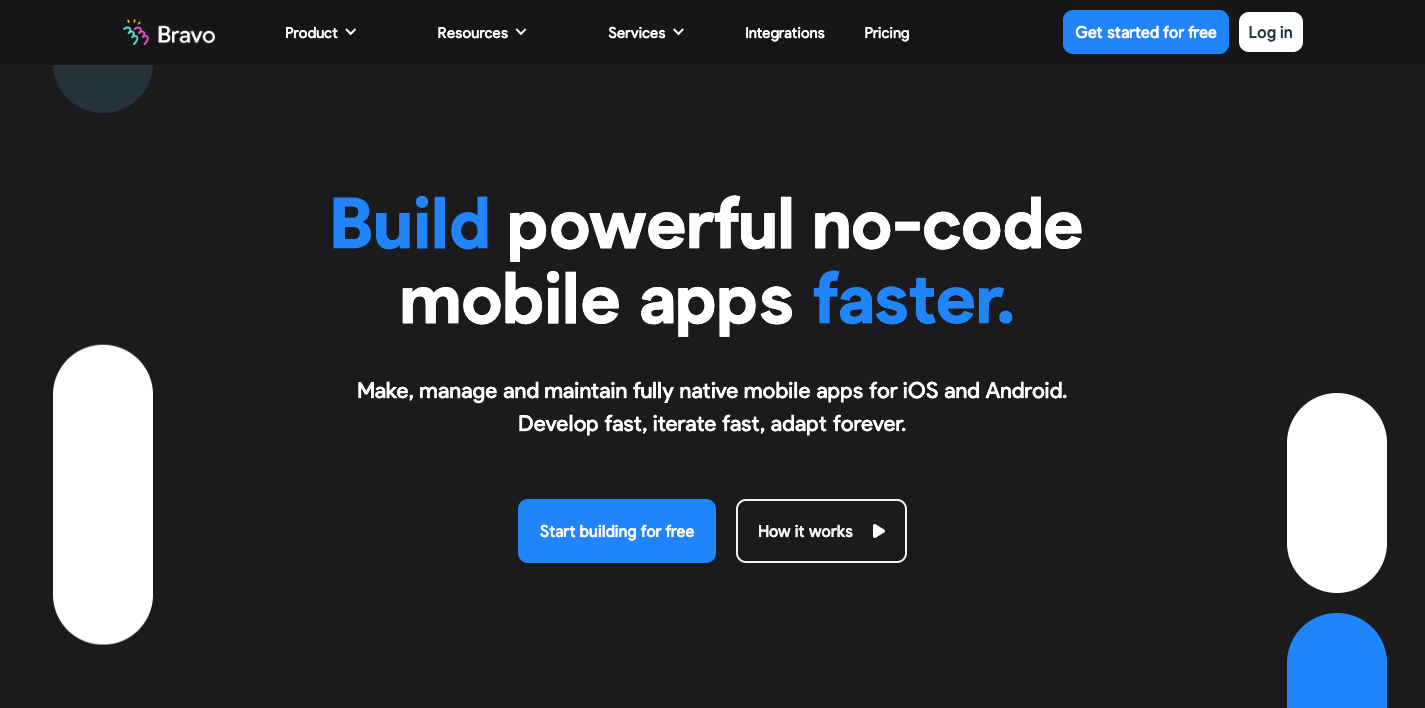 Bravo is one of the most beloved no-code automation apps among designers. It allows you to convert Figma and Adobe XD designs into native applications for iOS and Android in no time. Once you create your design in Figma or Adobe XD, you can connect it to one or more databases or APIs.
Plus, you can test your app directly within the platform, and even share test access with colleagues. As soon as you're ready to launch, you can publish your application to the Apple and Google Play app stores directly from Bravo's no-code app builder interface.
Pricing: has a free Starter plan, Olé plan per €19 per month, Olé PRO for €19 per month, Olé Advanced per €89 per month, and Olé Business per €199 per month.
Best No-Code Tools for Automated Testing
No matter whether you're a genius individual or a small startup with a brilliant software idea – everyone needs to test their product before it enters the market. Below we have collected top test automation tools which can greatly help you with it:
DogQ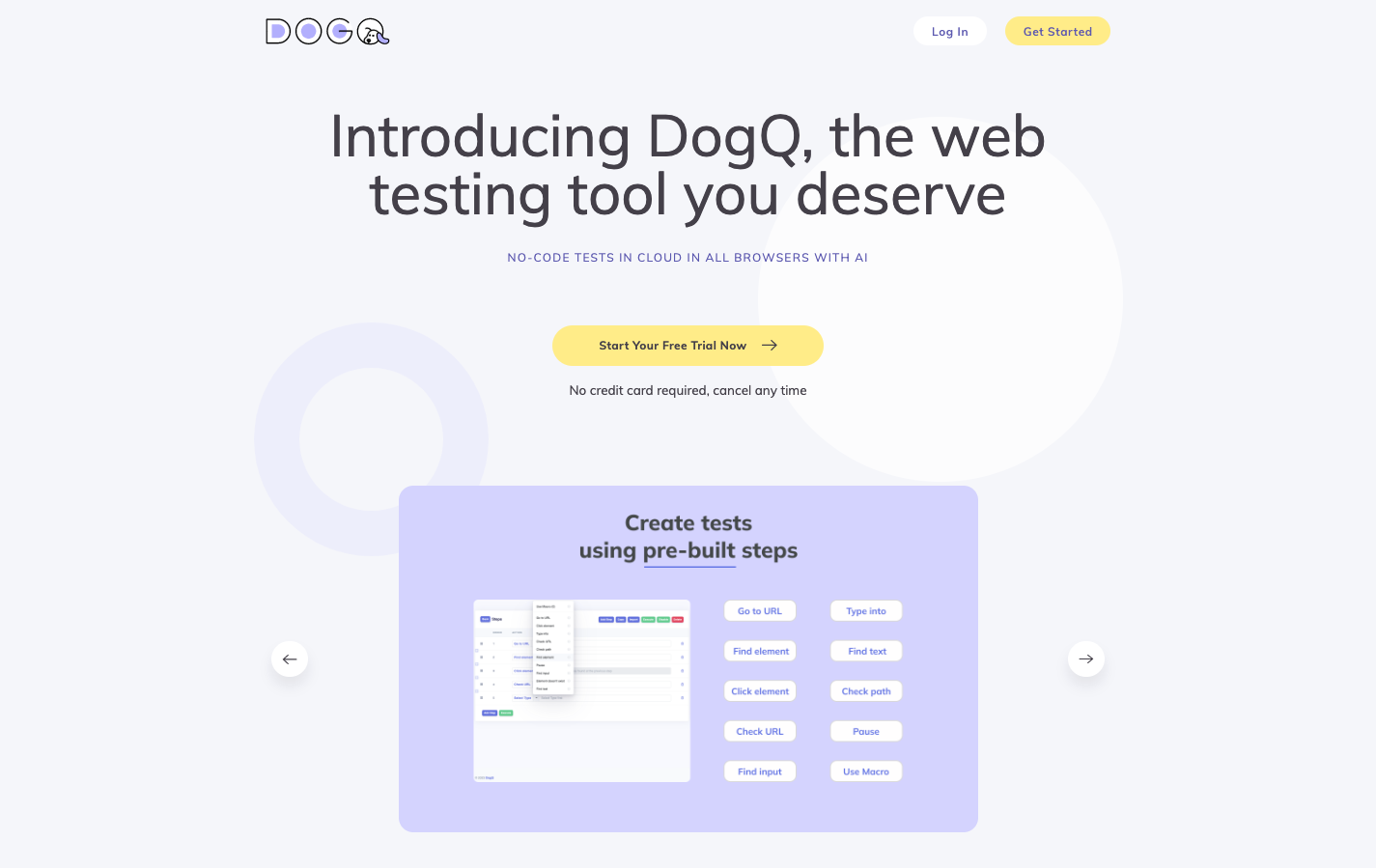 DogQ is an easy-to-use no code test automation tool with a user-friendly interface and intuitive design. With DogQ, customers can quickly test software with multiple scenarios with no coding – only a minimum of tech knowledge is needed.
The product allows users to run multiple test cases in the cloud and manage them directly through a custom-built interface. The tool uses AI-based text recognition technology which is among the top automated testing trends. It works for you automatically and provides you with 100% readable and editable test results. Moreover, test cases and scenarios can be run simultaneously, scheduled, edited, and then easily reviewed by non-technical team members.
DogQ is one of the best no-code test automation tools which provide customers with visual analytics and reporting features, as the future is all about data and clear dashboards. All the functionality is available starting from day 1. The company also highlights that it will support startups with a customized subscription plan if they need such for testing their products.
Pricing: access to everything on a free 14 days trial plan, then you can subscribe to the Basic plan for 5$ per month, the Team plan for 50$ per month, the Business plan for $500 per month, and the Enterprise plan after contacting the DogQ marketing team.
Preflight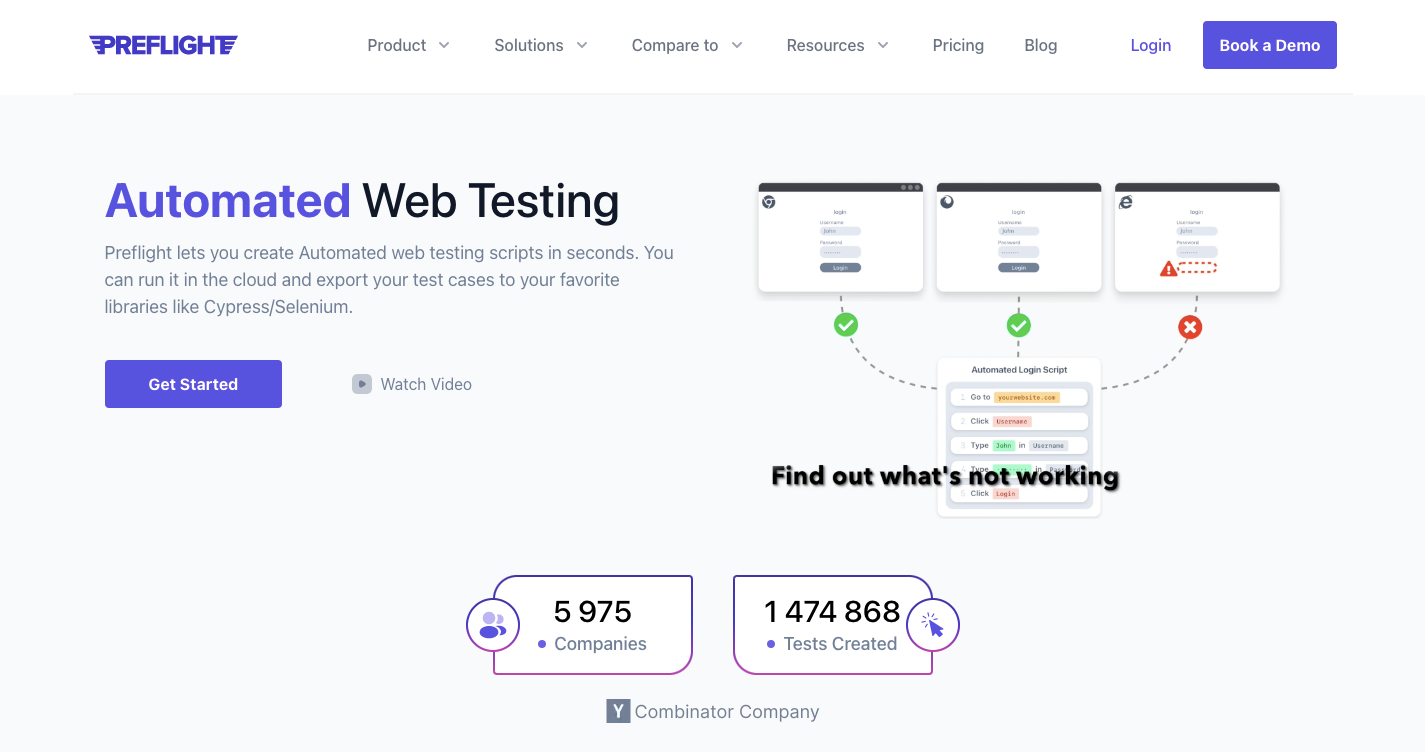 Preflight is a no-code cloud automation testing tool with a user-friendly interface that will fit both QA professionals and non-technical specialists. It is 20x faster and more efficient than writing Selenium and Cypress tests. Preflight allows easily setting up end-to-end tests and then deciding which test should run after another. Plus, it automates API testing by prepopulating them from UI tests' network calls.
Users of Preflight can enjoy dynamic data inputs during recording which allows getting comprehensive and thorough testing results. All the test cases with randomized variables can be reused and modified to ensure accurate data processing by the servers.
Pricing: access to everything on a free plan, which is up to 100 test runs, then you need to contact the Preflight marketing team to subscribe to QA basic, QA pro, and QA elite plans.
Low-Code vs. No-Code Automation
You may wonder what's the difference between low-code and no-code, as these terms sound similar. Everything's simple and is perfectly described in the table below:
As you can see, the difference is not so big, but it definitely exists, and it's only up to you which type to choose.
How to Choose No-Code Platforms That Will Fit You Best?
Looking through this no-code tools list and in huge variety of apps and platforms, how to choose the one that fits you best? Of course, everything is individual and there is no universal rule, but still, there are some general recommendations and tips for choosing the best-fitting no-code automation platform. Here they are:
Define your requirements list;
Ensure the chosen tool possesses all the needed functionality;
Read reviews at trusted platforms like Product Hunt, Clutch, etc.;
Check up your budget taking into account the possible scale of the team;
Start with a trial plan and give your chosen tool a go, exploring its functions;
Make sure your employees love the tool.
Thus, each no-code tool is different from the others and has its pros and cons, so research, explore, and try, and you'll definitely find out something special.
Remember that DogQ specialists are always ready to consult you upon no-code testing automation and answer all your questions upon using the tool, so don't hesitate to register and contact us anytime! Let's make testing available for everybody!