About Otomate
Our client is a young and promising startup headquartered in Warsaw, Poland. They're transforming the eCommerce market via a robust PIM management platform called Otomate.
Despite being a young company, they aim to transform how individual resellers, brands, and online shops manage their assets and products. Their all-in-one PIM management system has an impressive set of features, as well as flexible tariff plans to fit any requirements.
The Challenge
The client was in the process of developing a brand-new web content management platform, able to connect numerous online platforms with the content of any type and manage them all from 1 place.
In other words, it should be a single content store that can be connected immediately to different "consumers" – websites, aggregators, online catalogs, resellers, etc. They also wanted the final product to fit both small store owners who run the business alone and managers who are responsible for the content in large resale corporations.
To reach all these goals, and to create a game-changing content collaboration management platform that could work flawlessly with any type of contact the client was looking for a robust all-in-one test automation solution. It should help to find all the bugs, optimize the testing process, and speed up product development.
What's also important, Otomate's team needed a tool that can be used not only by testers, but also by managers, as they were deeply involved in the project development and needed to get insights about the product progress and features in real time.
Thus, the chosen automation testing tool should help to reach the following goals:
Be user-friendly and handy both for developers and managers, has a small learning curve, and robust set of features together with testing in team function;
Effectively check the whole PIM data management platform on possible bugs and issues, and help to eliminate them;
Test and tune the bulk edit feature, so that product information management (PIM) system users could edit product cards in bulk at 1 place;
Improve the work of the search filter, so that customers could quickly find the right product cards at any platform they need;
Test a rich set of available automation and integrations with multiple testing scenarios, so users could quickly share catalogs with other online stores and resellers;
Help to improve the PIM's (product information management software) performance, optimize UI and make it user-friendly and intuitive.
Otomate decided to choose a DogQ test automation platform because it possessed all the needed functionality and has a user-friendly UI, so the whole Otomate team was able to use it. They chose a business pricing plan, and started to work with our testing tool in July 2022.
The Solution
With the help of DogQ codeless automation testing platform, the client successfully covered all their product testing needs at the current stage, and significantly speeded up their smart content management platform development process.
Otomate's team, consisting of 2 QA engineers, 4 software developers, and a highly experienced project manager worked together to test each Otomate feature and integration separately and then the general performance of the PIM (product information management) platform.
Using DogQ, they successfully automated all regression, e2e, functional, and UI tests, covering as much as 90% of the application's functionality only after 2 months of using the tool (the remaining 10% are the features that are still in the development stage).
In this PIM (product information management) test case, Otomate software development company reached all the set goals on testing, marking the most useful DogQ features as the following:
Ease of use, multiple automation scenarios, quick test creation;
Ability to run tests in a team with QA engineers and non-technical specialists;
Handy notifications in Slack with the results of the tests;
Ability to schedule, structure, and record test scenarios to repeat the needed ones for every build before deploying;
Feature of running the regression testing scripts in a module sequentially, which helps to eliminate human-related errors;
AI-based computer vision technology which allows checking all the text elements of the platform on correctness.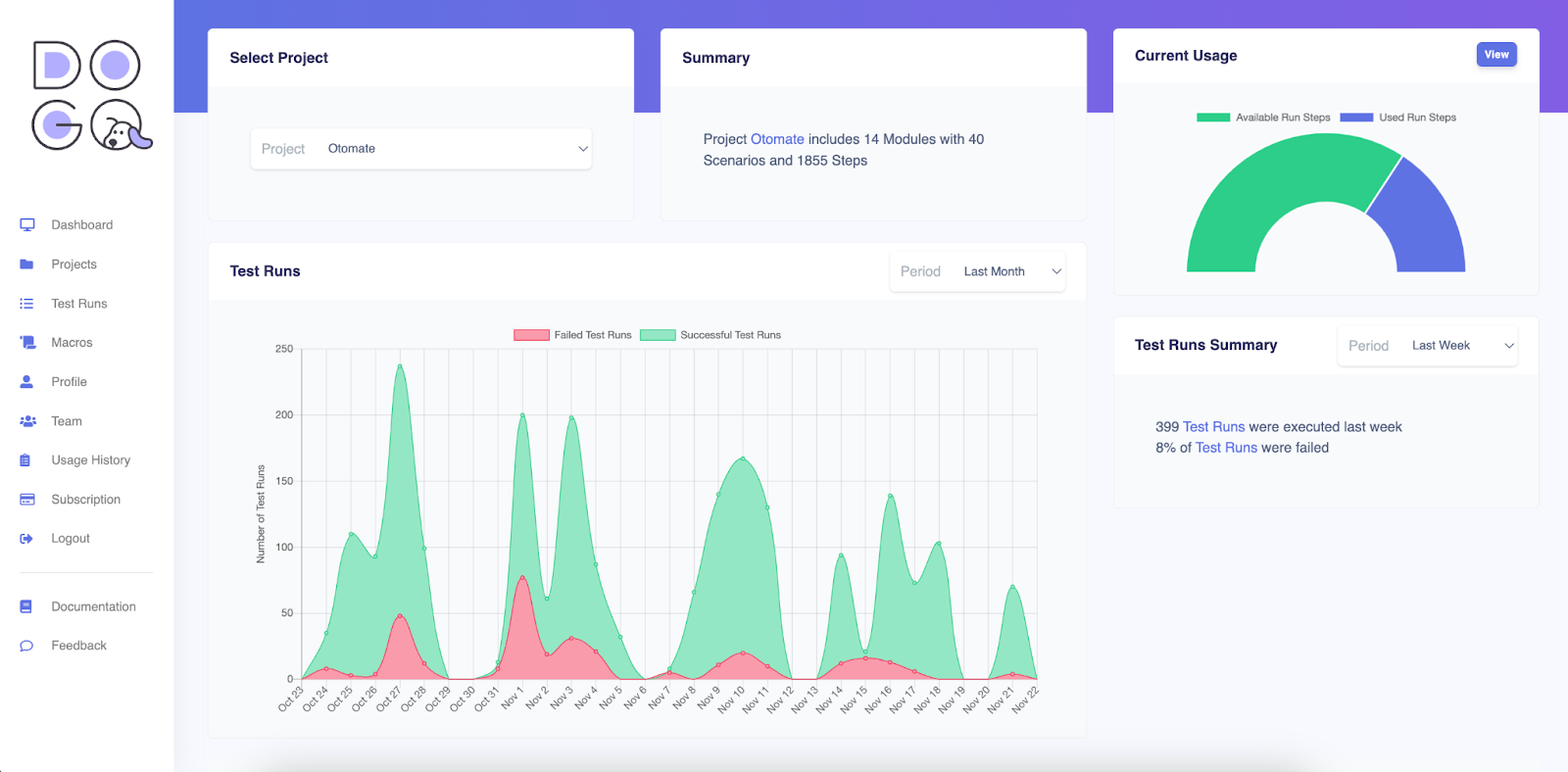 The Results
Otomate team started to use the DogQ test case automation tool only at the final stages of their content management system platform development, but only after 2 months of using DogQ they had impressive positive results.
The team covered with tests all the ready functionality of the cloud content management platform and stabilized its work.
90% decrease in human errors – Otomate's team noticed a significant decrease in human errors, and growth in the quality of regression testing if compared to manual testing that they practiced before.
35% faster development process – the client marked that the whole development process became faster and fewer human resources is needed in each development stage.
Using the insights found during the PIM testing project management, they improved working with media content, so that the platform can now add not only pictures of different formats to products, but also video, audio formats, documents, and even 3D models via the drag & drop feature.
DogQ helped to improve the PIM's (product information management software) performance and optimized its UI, making it state-of-the-art, user-friendly, and intuitive.
They fixed the proper work of the bulk edit feature so that users of the Otomate sales content management platform could edit product cards in bulk in real-time.
Tuned the work of the search filter, so that customers could quickly find the right product cards at any platform they need.
They also enabled the smooth sharing of catalogs content management platform products with other online stores and resellers, as well as the correct redirect to the pages.
DogQ helped to create a bug-free product information management system (PIM) that can manage information on products placed on various platforms via one robust tool. The client's team was highly satisfied with DogQ and estimated their willingness to refer to our tool as 5 out of 5.