About Fively
Fively is a custom software development company located in Warsaw, Poland. They're focused on creating game-changing web solutions and mobile applications that help medium and large businesses optimize their workflow, drive digital transformation, and raise marketing KPIs.
At Clutch, one of the most trusted platform for software development companies, Fively has the highest possible rate according to all customers reviews, 5 out of 5 stars.
The Challenge
The client was developing a brand-new website representing their custom software company and needed to test it on possible bugs. They wanted to optimize the CI/CD process, and switch from manual testing and writing auto tests to a robust user-friendly test automation tool.
The client wanted an all-in-one test automation solution to check the whole website on possible issues, quickly eliminate them, optimize the website UI and performance, and get excellent customer experience results. Here are what features should the chosen test automation platform possess:
Quickly create multiple test automation scenarios, structure and record them to repeat the major ones for every build before deploying;
Optimize the time and the QA engineering resources needed to test the website on bugs and eliminate them;
Be user-friendly and easy to start, so even non-technical specialists like a business analyst or project manager could use it to create and run tests;
Help to improve the website's performance and get excellent customer experience results.
Fively decided to choose a DogQ test automation platform because it possessed all the needed functionality and was extremely easy to use for the whole project team. They started to work with our tool in January, 2022.
The Solution
In this test automation case study, the client used DogQ codeless automation testing platform to cover all their website testing needs. The team of 2 QA engineers, a software developer, and a business analyst worked together to test each web page separately and then the whole performance of the website. Using DogQ, they successfully automated all regression, e2e, functional, and UI tests.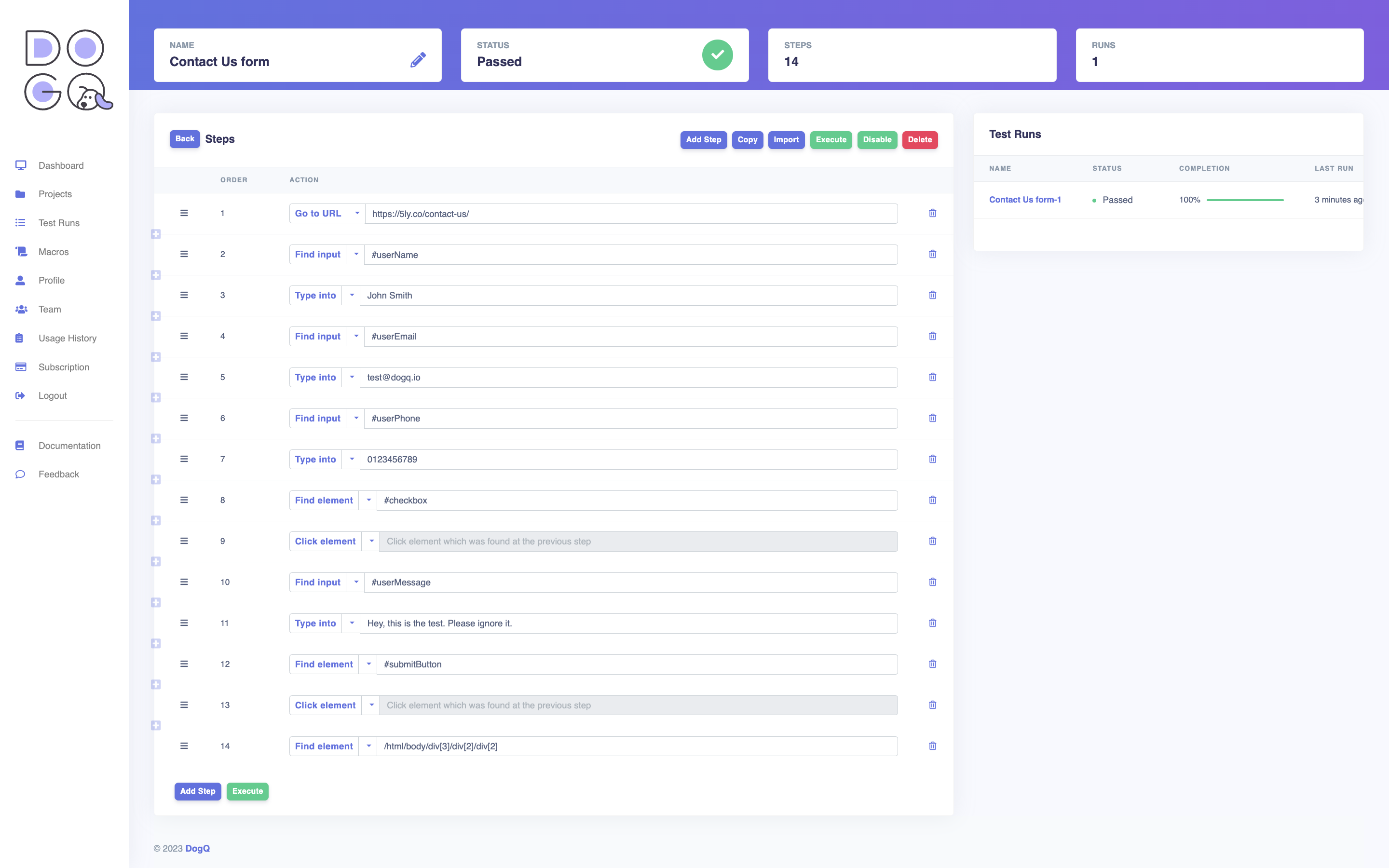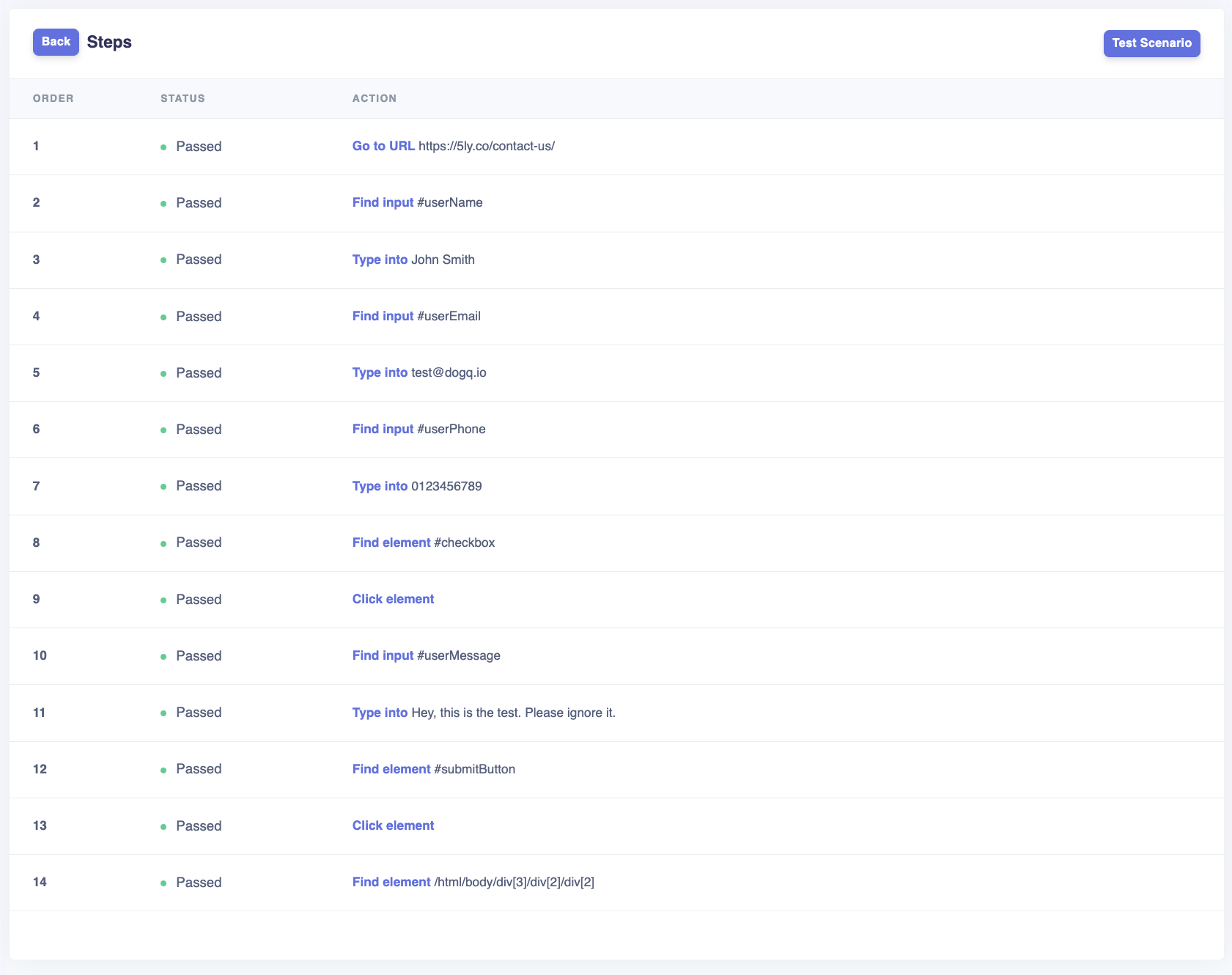 During this test automation business case, Fively's team found the following DogQ features the most useful:
ease of adoption, test creation, and record;
multiple automation scenarios;
team management;
test scheduling;
OCR-based computer vision technology which helps to emulate user behavior on the page.
In this automation test cases example, Fively custom software development company got 100% website testing coverage and was fully satisfied with the tool functionality.
The Results
Fively started to use the DogQ test case automation tool at the very first stages of their website development and continued to use it for testing throughout the whole development process. Only after 2 months of using DogQ they noticed a significant decrease in human errors while testing, as well as that the whole development process became faster.
Here is what they've got in numbers during this test case automation project:
91% decrease in human errors – if compared to manual testing or writing autotests by developers, Fively custom software company has got almost a double growth in quality of testing with no extra QA specialists or money spent;
23% faster development process – the client has finished their project by as much 23% faster when compared to the traditional process of checking the website performance by the team of QA specialists after the release;
100% test coverage – the website was thoroughly tested on UI, performance, security, and other types of bugs at all the possible browser and device types;
A high Core Web Vitals score – thanks to DogQ test automation tool, all the bugs were eliminated and the client's website has got perfect results in all three user experience metrics: LCP, FID, and CLS.
The client's team has got the best experiences while using DogQ test automation platform and estimated their willingness to refer to our tool as 5 out of 5. Our automation testing platform helped them save weeks of regression testing if done manually and significantly improved testing quality.
After the project was finished the client implemented the platform in their daily workflow. It's allowed them to optimize their staff resources and budget allocation, free up QA engineers and developers, as well as improve the overall CI/CD process in the company.
"We are highly satisfied with the tool. It not only helped us to launch the website faster but optimized the whole testing process in the company. Our QA team now has more free time for high-level tasks, while all the regression is perfectly done with DogQ".
Igor Yakutovich
Co-Founder at Fively