Why Choose DogQ for Codeless Testing?
Discover the top list of DogQ codeless testing tool benefits in comparison with other solutions available on the QA software market.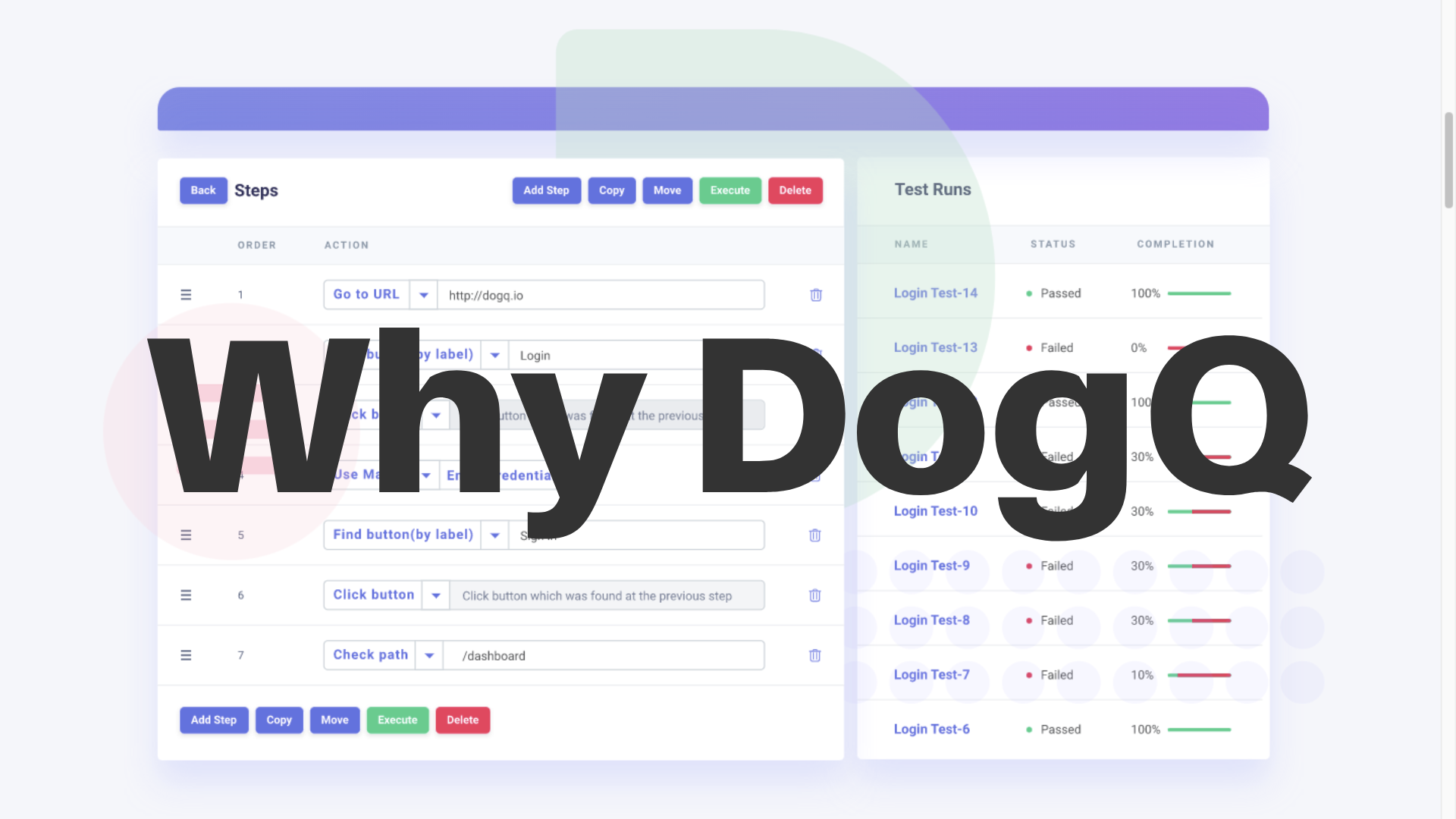 DogQ specialists are devoted to providing you with the best possible testing experience. We have gathered the data on codeless testing tools, collected customers' feedback, and made the analysis to help you compare DogQ with other solutions available on the market.
Web Apps Codeless Testing Tools Comparison
The intuitive UI/UX design, rich functionality, and modern architecture make DogQ the easiest-to-use, fastest, and one of the best codeless test automation tools on the market. Below, you can find an ultimate list of features you can enjoy with DogQ:
*Coming soon DogQ functionality                                                                           **Based on the result of our market research, partially represented in this article: 25 top test automation tools
DogQ Integrations & Add-Ons
Plus to the main functionality, DogQ codeless testing tool has powerful integrations that can greatly automate your workflow, make the testing process even faster and easier, and give you 100% test coverage:
*Coming soon DogQ functionality
Why DogQ is So Good?
What is our codeless testing tool advantage if compared to code-based ones? Below, you can find a list of ultimate DogQ benefits, which make it a top-market codeless testing solution:
Easy-to-use interface
Quickly build automated testing scripts without a single line of code. Fits even non-technical specialists with no background in QA:
Enjoy intuitive UI
Easy adopt with functionality
Learn with handy tooltips
Multiple automation scenarios
Enjoy a variety of ready-made built-in test cases which allows to greatly automate test case generation:
Save time on elements ID
Discover new test scenarios
Use Macros to boost efficiency
Test management
Add, change, copy, delete, and reset test runs at the touch of a button. Enjoy full transparency of the automated testing process:
Make changes to scripts
Check test runs history
Get control over the testing process
Real-time analytics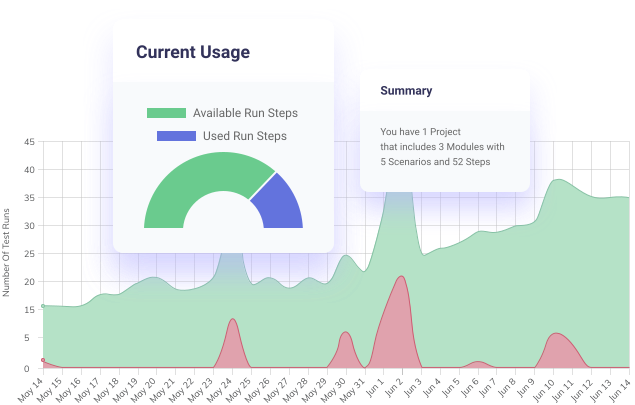 Get timely visualized reports and graphics to track the number of passed and failed test runs, discover project insights, and find the product's strong and weak sides:
Get a visual statistics dashboard
Track available run steps
Take data-driven decisions
Test scheduling
Set automated testing at the end of each sprint, automate your working routine, and forget about hustle:
Automate recurrent test scenarios
Run all tests simultaneously
Pause and reset scheduling if needed
Team management
Work with your project teammates, share and edit test scripts, and increase your test coverage:
Assign different team roles
Create sophisticated scenarios
Boost your team performance
*AI-driven testing
Build automated tests with specified keywords, emulate user actions, and tune the app UI according to the gained results:
Use OCR-based text recognition
Increase test speed and accuracy
Get business-valuable insights
*Essential integrations
Enjoy powerful 3rd-party integrations that can greatly speed up your daily routine, and free time for other tasks:
Use CI/CD integrations
Automate your workflow
Get 100% test coverage
*Coming soon DogQ functionality
Drawing the Line
DogQ, a cloud-based codeless test automation tool, is a great solution for professionals and nonprofessionals who are interested in web testing. This automation tool is really easy to use due to its intuitive GUI and easy-to-learn solutions.
With DogQ you can accelerate the development workflow and significantly reduce the price tags of the QA preserving the 100% testing coverage of your app. DogQ offers customizable pricing plans, where the costs depend on how much testing power you need right now. You are also free to use the free trial of the tool.
Moreover, our QA specialists are always ready to answer your questions upon software testing strategies. We will be happy to help you with choosing the right testing automation tool for your business or software project, as well as provide any additional technical support you need. Feel free to contact us and try our codeless testing platform.